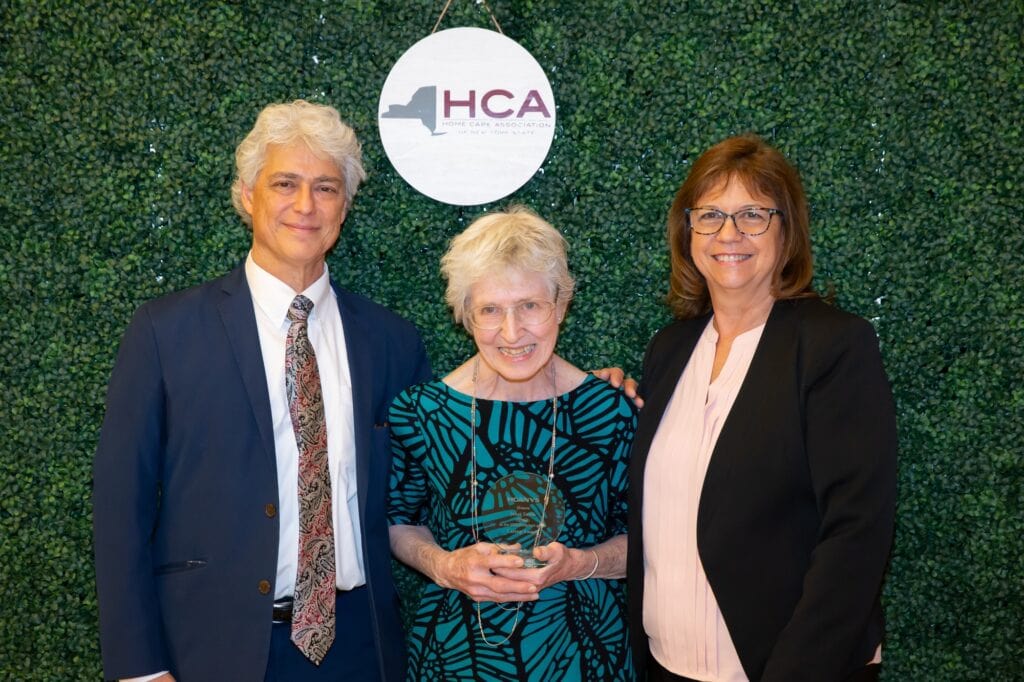 Nascentia Health is proud to announce that Janet Sovik, a home health aide with the organization, received the 2023 Caring Award from the Home Care Association of New York State at their annual conference in Saratoga Springs on May 4. The Caring Award recognizes those who have exhibited exemplary compassion, skills and service and/or whose actions exemplify caring in the home care setting. Janet has worked for Nascentia since 1998 and is one of the agency's most experienced and dedicated home aides. Janet is specialty trained to care for Alzheimer's patients, mental health needs, and hospice care, and has worked with numerous patients who require a high level of care and training. She was recognized for her exceptional dedication to caring for others in need.
Janet says she works as a home aide, "because you're caring for someone. You know you're doing something good for someone that they can't do for themselves." She says that she really becomes a companion to that individual, not just someone who cares for their physical needs. "I like being able to go to people's homes. It's nice because of all the people you meet." Even though she is in her 80s, Janet can't imagine retiring. She says she loves having people to care for every day and wouldn't want to give up the opportunity to make an impact on people's lives.
Her manager says, "Janet works so hard. She is busy as a bee when she's in a patient's home and is an excellent communicator, always letting us know any issues her patients need addressed. Janet is just a good person. She would do anything you needed and is someone we all count on." Her colleague says, "Janet never says no to helping a client. She always goes the extra mile and her clients just love her."
Read more about Janet and this award at https://hca-nys.org/janet-sovik. Watch a video about Janet below.