Our telehealth program offers several ways for patients and caregivers to interact with us outside of their in-home visits, allowing us to efficiently monitor their health and improve their care.
Telehealth monitors record patient data such as weight, blood pressure, heart rate and oxygen levels.
A small device, the size of a hardcover book, is installed and is as easy to use as a grocery checkout machine or basic cellular phone. Within minutes, the readings are available electronically to clinicians for a complete review.
The advantages of telehealth technology:
Ability to adjust services to a patient's changing needs.
Monitors current heath in addition to in home care visits.
Allows clinicians to manage and improve care more efficiently.
Often decreases emergency room visits.
The following illnesses can be monitored by telehealth:
COVID-19
Congestive heart failure (CHF)
COPD
Diabetes (Glucose)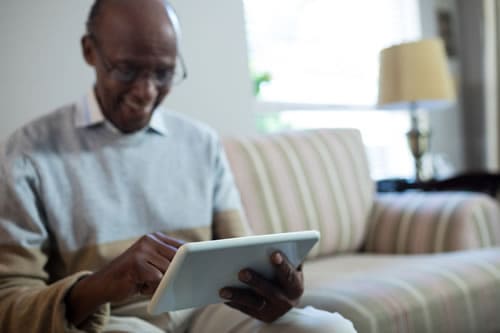 What is monitored depends on our patient's condition and current health challenges.
For someone with heart focused care we may monitor:
Oxygen saturation
Heart rate
Blood pressure
Bodyweight
For surgery recovery we may focus on:
Temperature
Heart rate
Activity levels