Nascentia Health is proud to honor 13 employees in our annual recognition program. These outstanding staff were nominated by their colleagues for their dedication to the organization, their positive attitudes, and contributions to our mission.
President's Award—Amy Davis and Suezette Van Horn. Both of these nurses encompass the Be Nascentia Values, and consistently go above and beyond to promote the fulfillment of others' needs to best serve co-workers, patients, the organization and the community at large. Amy transitioned from running our adult social day program to serving as a front-line nurse administering COVID testing and vaccines. She now runs Nascentia's new housing collaboration at The Gardens at St Anthony on Syracuse's south side. Suezette moved from her role in our social day program to staffing drive-through and walk-in COVID testing centers year-round and helping coordinate and administer COVID vaccines and boosters to the community.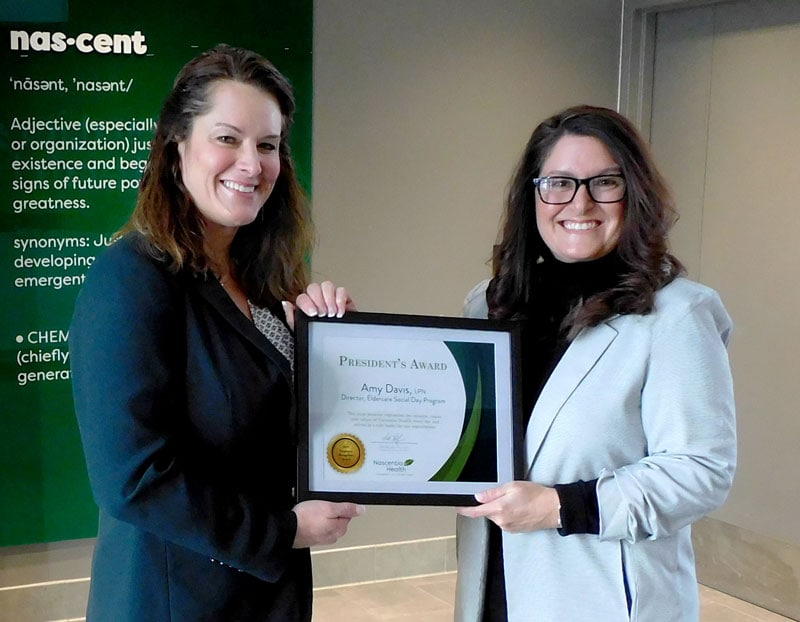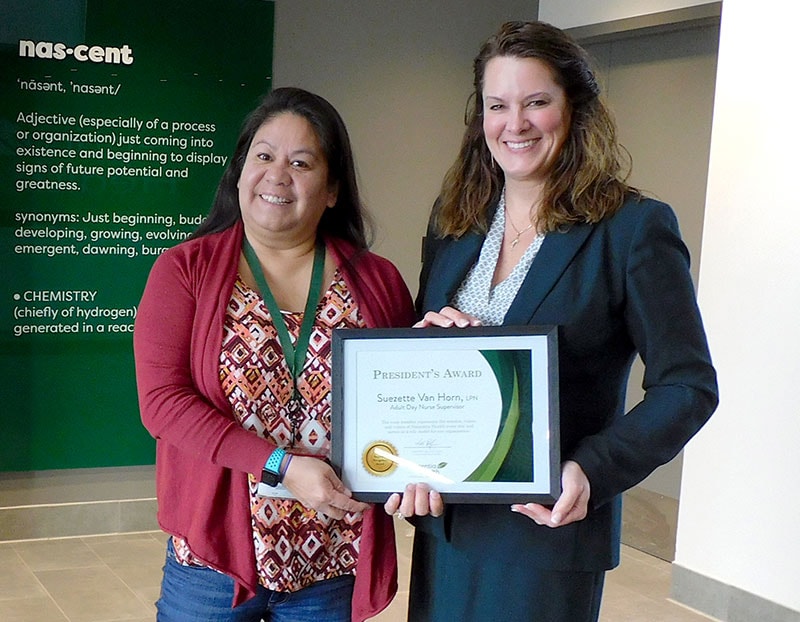 Sabrina Young Alzheimer's/Dementia Home Health Aide Specialist of the Year—Scholastica Poleon. She is an extremely dependable aide, who already has a demanding overnight schedule, but is always willing to fill in wherever she is needed. The families she serves adore her because of the quality care she gives their loved ones.
Home Health Aide of the Year—Rebecca Snell. Becky has been with Nascentia Home Aides for 12 years and has devoted her life to her clients, serving the same patients for many years. There was a time when she had to step back from caregiving for a while, and when she returned to work, her previous clients demanded her back as soon as possible because of the incredible care and service they had come to depend on with Becky.
Hospice Home Health Aide Specialist of the Year—Naffie Tunis. Naffie is a very caring and compassionate aide who sets the bar very high for herself and her clients. Naffie has been with Nascentia for 17 years, spending much of her time working with patients who have ALS, and recently serving residents of Francis House and their families. Both Hospice and Francis House agree that Naffie deserves recognition for her remarkable skill and compassion.
Rookie of the Year—Rachel Arcaro. Rachel joined our front desk last year and quickly became a considerable asset to the organization. She is pleasant, dependable, and always willing to go the extra mile. Rachel is a team player and always wants to learn new things and find ways to be even more valuable to Nascentia.
Administrative Employee of the Year—Eric Lacey. Eric consistently goes above and beyond while managing our Independent at Home program and is extremely dedicated. The population he works with can be very challenging and he always remains professional and patient. Eric is the epitome of customer service and compassion and is an extremely hard worker.
Rookie Clinician of the Year—Megan Grondin. Megan is a nurse in our CHHA, who joined us in 2021, as a home care nurse. By the end of the year, she was seeing at least five patients a day in two counties and has proven her excellent skills working with complicated medical needs. Megan has received numerous compliments from patients for the first-rate care and compassion she provides. Her co-workers have said that she can always be counted on to be thorough and communicates effectively with case managers on all patients.
Health Professional of the Year—Patrick Forget. Patrick manages our telehealth program and brings considerable knowledge and skill to the position. With his background in physical therapy, he applies his clinical expertise to helping our patients effectively monitor their health and connect with a caring professional. He is kind, polite, a wonderful employee, and a true asset to this organization.
Nurse of the Year—Shelley Trace. Shelley is known as a "go to" nurse when help is needed. She is always smiling and goes the extra mile for our patients and the organization. Shelley works with some of our most challenging patients, many with multiple socioeconomic struggles, and she treats each and every one of them with dignity and respect. Her diverse skills allow her to also serve those with so many different levels of medical care needs, including working as an end-of-life hospice nurse, helping make a patient's last days comfortable and supportive. Her patients and their families say that they are so grateful for the kindness and compassion that Shelley conveys in the way she provides care at each visit.
Care Manager of the Year—Kay Ritz. Kay is an exceptionally hard working, attentive care manager who has gone above and beyond to deliver the highest level of care to our members. Kay is praised by our members as being a remarkably compassionate person, as well as a considerate individual, who treats members as if they were a part of her own family. One of her cworkers states that Kay is a thoughtful and kind person that is always willing to lend a helping hand to anyone in need.
Customer Service Person of the Year—Damon Gagnier. Damon always has an astonishingly positive attitude and is committed to solving any challenge our members have with their transportation needs. He consistently displays his heart of gold, showing how much he truly cares about his team and his entire Nascentia Health family. He shines in the customer service field, and no matter how difficult and stressful the situation, Damon simply has a way of handling it with incredible patience and a calming grace.
Leader of the Year—Kelly Boulier. Kelly is a nurse and clinical supervisor who is described as an exceptional leader. Kelly always makes herself available for her team, is extremely knowledgeable and her manager states that, "there is nothing this woman won't do to make sure our patients have the best care." Recently, Kelly has assumed supervision for two clinical teams, and she has done an excellent job of balancing her many work responsibilities, while continuing to deliver outstanding care.