Nascentia Health Plus Medicare Advantage Plans promote collaboration between patient, providers, and caregivers and will help your patients manage their chronic health conditions through evidence-based interventions.
Below you will find all of the information you need to get started as a participating provider, including important contact information.
To comply with both the Centers for Medicare and Medicaid Services (CMS) and New York State Department of Health regulatory mandates,
Nascentia Health Plus requires that all contracted providers report changes to addresses and other practice information electronically via the Provider Information page or in writing immediately.

Provider Relations Department
(315) 477-9280
providerrelations@477home.org
The Program Integrity Department was established to support our commitment to the highest standards of conduct, honesty, integrity and
reliability in our business practices.

Corporate Compliance
Nascentia Health
Attn: Compliance Officer
1050 West Genesee Street
Syracuse, NY 13204
Phone: (315) 477-9262
Corporate Compliance policy
Third-Party Compliance Hotline
Call our Third-Party Compliance Hotline at 1-855-252-7606 or file a report online at http://www.hotline-services.com.
Prior to providing services, providers must verify the member's current eligibility by contacting member services.
Member Services
(888) 477-4663
To request prior authorization, submit your request via fax or phone.

Authorization Department
(888) 477-4663
Inpatient Admissions Fax
(315) 870-7788
Outpatient Authorizations Fax
(315) 870-7788
Prior authorization is not required for emergency or urgent care.
A prior authorization is not a guarantee of payment; payment is subject to member eligibility and benefits at the time of service.
Please see prior authorization requirements to determine if a prior authorization is required.
Nascentia Health Member Identification (ID) Card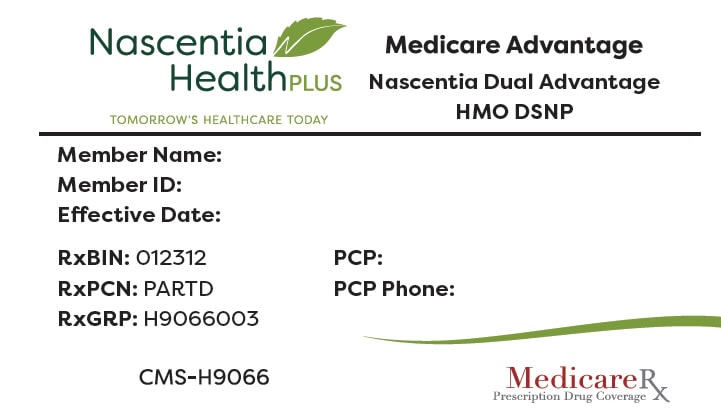 If a provider disagrees with the coverage/payment determination made by Nascentia Health Plus, upon receipt of the paper or automated
remittance advice, providers may contact Nascentia Health Plus via written correspondence to dispute the determination.
Reconsideration Requests
Nascentia Health Plus
Attn: Claims Appeal
1050 West Genesee Street, Syracuse, NY 13204
Nascentia Health provides a wide range of home care services and insurance plans to help clients stay in their homes. Refer clients through our customer service center at (888) 477-4663 or our referral form.
Nascentia Dual Advantage Special Needs Plan (D-SNP)
Nascentia Skilled Nursing Facility Special Needs Plan (I-SNP)
Nascentia Health Options Managed Long Term Care (MLTC)
Nascentia Health at Home (CHHA)
Nascentia Home Aides (LHCSA)
Independent @ Home (CDPAP)
Last Updated on July 28, 2021