Nascentia Health Options is a managed long-term care (MLTC) Medicaid
plan in New York state.
Managed long-term care plans offer those who are 18 and over and are chronically ill or disabled and need medical and nonmedical services to remain in their homes safely. The plans provide a wide array of services, including both medical and non-medical care and are paid for through Medicaid.
Nascentia Health Options works with each member to design a personalized care plan to meet the individual's home and community-based needs. By engaging our extensive network of providers and community partners, we coordinate services to make sure every need is covered.
When patients enroll in the MLTC plan, we help them understand their Medicaid benefits and how they apply to the plan. For members who need Medicaid, but are not yet enrolled, we help navigate the process through one-on-one assistance.
Who is Eligible?
You are eligible for managed long-term care (MLTC) from Nascentia Health Options if you:
Are age 18 or older
Are eligible for nursing home level of care (In some cases may be required)
Can stay safely at home and in the community at the time you join the plan
Are expected to need long-term care services for at least 120 days
Are Medicaid-eligible
Live in the Nascentia Health Options service area (see map below)
Our Service Area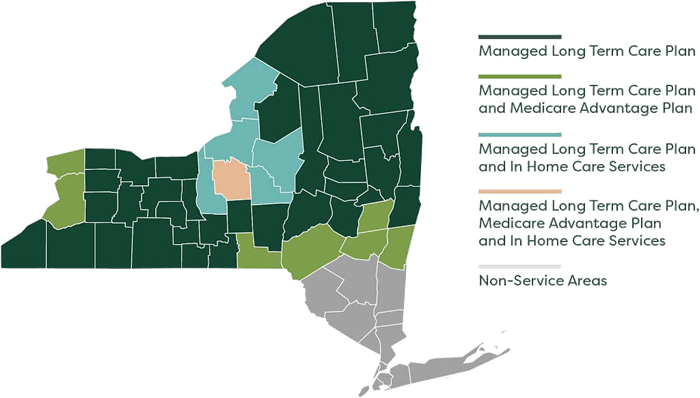 Nascentia Health Options provides a broad spectrum of services primarily to Medicaid-eligible individuals and families in the following counties:
Albany County
Allegany County
Broome County
Cattaraugus County
Cayuga County
Chautauqua County
Chemung County
Chenango County
Clinton County
Columbia County
Cortland County
Delaware County
Erie County
Essex County
Franklin County
Fulton County
Genesee County
Greene County
Hamilton County
Herkimer County
Jefferson County
Lewis County
Livingston County
Madison County
Monroe County
Montgomery County
Niagara County
Oneida County
Onondaga County
Ontario County
Orleans County
Oswego County
Otsego County
Rensselaer County
Saratoga County
Schenectady County
Schoharie County
Schuyler County
Seneca County
St. Lawrence County
Steuben County
Tioga County
Tompkins County
Warren County
Washington County
Wayne County
Wyoming County
Yates County
Frequently Asked Questions
Last Updated on June 14, 2021